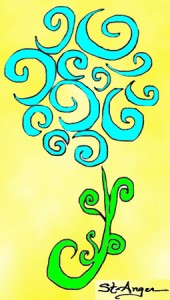 I look outside my window as I write this blog post in the month of January. The outside world is covered with snow. Concrete paved streets and tall trees with lingering and withered leaves normally radiant with color are now left only with a glistening white residue. Everything beneath is in waiting... waiting to be uncovered... waiting to emerge.
Where are you? Are you too beneath the snow, waiting to emerge? Are you covered with residue from dreams long lost and goals unrealized? Are you silent, waiting to be noticed and given the opportunity of a lifetime?
Today, I remind each one of us to give that opportunity to ourselves. Out of the solid ground peeks a rosy pink and green bud. "This is me," you can tell yourself right now. "Today is a new day. There is no need to be silent or wait any longer. It is my time... to be born."